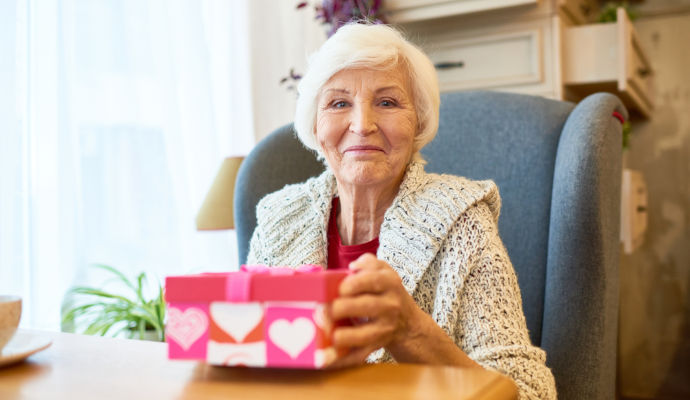 Valentine's Day is the perfect time for couples to renew their relationship goals and plan for the future. But why limit this fantastic occasion to couples only when everyone can enjoy it to the fullest, including seniors. 
Research suggests that over 3.5 million seniors live alone in the UK. As partners pass away and friends' circles grow smaller, the day commemorating love can be too harsh for the elderly.
Whether you're a family member looking for some creative ideas to celebrate the day of love with your elderly loved ones, or a carer working in an elderly companionship in the U.K., this post will serve as an all-in-one guide to help you plan the best Valentine's Day for your senior loved ones. 
Fun Activities to Enjoy with Seniors this Valentine's Day
Cook together
Valentine's Day celebrations are incomplete without some sweet treats. Instead of buying everything ready-made, you can plan a cooking or baking day at home. Research reveals that homemade food can significantly reduce the risk of several chronic illnesses, such as diabetes, heart attack, etc. 
Plus, there is no time better than Valentine's Day to bake or cook some homemade goodies and share them with your friends and family. 
The best part?
Your elderly loved one will also get the chance to participate. You don't have to pick recipes that require a lot of hard work. Things as simple as butter cookies, chocolate barks, or well-decorated sliced fruits would do the job just fine. 
Unleash your senior's creativity through crafting
Seniors are always looking for ways to show the creative side of their personalities. And what else could be the perfect time to do that other than on Valentine's Day?
Not sure where to start? 
We have included a few fantastic crafting ideas you can try this Valentine's Day with your seniors to delight them and feel included. The best part? They're all basic and do not require a lot of essentials either. 
Create a photo album
Valentine's Day is the perfect time to remember who you admire and love. Crafting a photo album from scratch will give your elderly the chance to reflect on their family and people who're close to them. 
Here's what you need to do to create a photo album from scratch:
Choose a theme – this could be Valentine's theme or any other theme your elderly is interested in

Choose your materials – start with a blank canvas. At this stage, you have to decide on whether you want your photo album in portrait format or landscape

Choose the photos you want to include in your photo album 

Customize
Craft a Valentine's Day card
You can also encourage your elderly to create a Valentines-theme card. The process is less strenuous than crafting a photo album. Plus, they can give these cards away to those they love. 
Put together a beautiful bouquet
Who doesn't love flowers? Of course, we all do. 
Get different flowers, such as roses, tulips, and lilies, and create a bouquet out of them. Wrap them in parchment paper, and your elderly are all set to gift that bouquet to someone they love, or they can simply keep it by their bedside to have a fresh and refreshing morning. 
Paint
Painting is another creative activity you and the elderly can enjoy together. Buy a blank canvas and some paints and let your seniors flex their creative muscles. 
Craft a hanging bird feeder
If the senior you're taking care of is a pet lover, you both can build a hanging bird feeder this Valentine's Day. There are countless ways you can decorate your bird feeder. 
Not only is this craft easier to make but your elderly will also get an opportunity to host a few birds every day near their window. How awesome is that?
Write a heartfelt note or a message
Valentine's Day provides your elderly the chance to connect with people that are important. Ask your elderly to write a personalized heartfelt note or a poem for that someone special. 
Plan a movie night
Another way to make your elderly's Valentine's Day more memorable and fun is by arranging a movie night. If going out isn't an option, you can invite a few friends over and enjoy a blockbuster together.
Reminisce about memories
Did you know the most enjoyable activity for seniors is to reminisce about memories? Bring out old photos and videos, and let them share the story behind each photograph, video, or letter. All you need to do is be a good listener and your elderly will enjoy your company as they did never before. 
Play games
Playing games is a wonderful way for the elderly to relax and participate. Also, these fun activities will help improve the senior's brain health and memory. 
From word-search puzzles to Sudoku and card games, there are many ways to keep your elderly loved ones hooked and engaged. 
Take friends and family on a video call
As we said earlier, Valentine's Day is not just about celebrating cute couple moments. In fact, it is more about connecting with your loved ones and sharing happy feelings. 
You can arrange a Zoom meeting to take those friends and family on a virtual call who live abroad but are very dear to your elderly.
Arrange a tea party
Of course, you can't do much other than set up a virtual call for those who live far away. But what about those who live nearby? 
You can arrange a Valentine-themed tea party for them.
Brew a variety of different teas, prepare your elderly's favorite healthy snacks, and play some music to double the fun. 
Gift them something they love
Make your elderly's Valentine's Day more special by gifting them the stuff they love. There are so many options to choose from ranging from cuddly soft toys to their favorite game or a houseplant. The choice is yours to make!
Valentine's Day is for everyone!
Everyone deserves a chance to celebrate Valentine's Day. We shared with you several ways to keep your elderly happy and engaged on the day of love. The ball is in your court now…
Happy Valentine's Day in Advance!