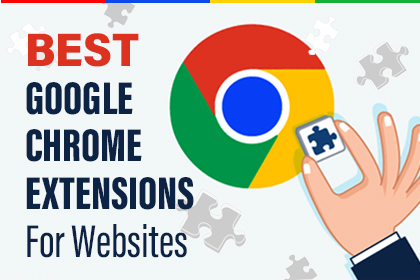 While working on the Google Chrome Browser you will probably want to know, for instance, how to correct your grammatical or spelling mistakes or know another website's font. As all of your questions have an answer from Google these issues have a solution, too. So, keep reading the article to get familiar with the top 5 Google Chrome Extensions for websites.
What Functionality Do the Extensions Have?
Almost all the users encounter them while working on a particular browser. Extensions being created for almost all types of professions may play an essential role on your website. Beginning from increasing the site's SEO rank, correcting grammatical errors, blocking the annoying ads, and the design solutions. Almost everyone may find a needed extension for completing this or that action. Some people even use more than one extension.
Yet, before adding one of them to your browser you need to be very attentive. As they might be harmful, too. Those ones are usually provided by the 3rd party websites.
Checkbot
Checkbot is a powerful extension checking more than a hundred pages within a few than 1 minute. The Checkbot extension provides many functions, such as:
Finds the SEO errors.
Proceeds with the speed and security measurements.
Marks the copied titles, unsecured passwords.
Highlights invalid HTML, CSS, and JavaScript.
By using this extension you will gain these benefits:
Increasing SEO rank, site speed, strong security.
Saved time and money.
Have all the unexpected mistakes and issues solved before displaying them on the live platform.
Checked working sites.
Honest and thorough feedback instantly.
Grammarly
The Grammarly extension gained big popularity among the Google Chrome web store visitors. It helps you correct your written content in the grammatical and spelling aspects with its instant suggestions. Moreover, they refer not only to your grammar and spelling, but also style, tone, etc.
So, the Grammarly Extension offers you these options:
Easy editing
Fast checking of the Grammar
Instant punctuation and grammar correction
Detected spelling
Sentence readability check
Immediate feedback
Detected tone
Right idiomatic phrasing
Having compatibility with Social Media and several other platforms, such as:
WordPress
Linkedin
Gmail
Facebook
Twitter
Google Docs
UberSuggest
Here is another extension intended to proceed with one of the most necessary actions for Website SEO. And it is keyword research. So, Ubersuggest is a good tool to reveal mostly related keywords for your topic. Moreover, it gives CPC and insights for all the keywords that you have found.
It is compatible with Amazon, Google, and YouTube.
With this extension you are able to:
Estimate the site traffic
Improve link-building strategy with the backlink data
Customize the location and languages
Receive appropriate long-tail keywords suggestions, etc.
What font
Sometimes when you enter a website you might like a certain font that is utilized on pages, articles, blogs, etc. So, in this case, you will most likely appreciate the What Font extension. It provides big assistance to the web developers and designers to get rid of font searching processes. So with its assistance, you may know:
Font name
Position
Family
Style
Color
Size
Moreover, this extension supports Google API. So this means that you may get all the Google Fonts while searching with the What Font extension.
Web Developer
Google has prepared a famous extension that might please all the web developers. So here is the Web Developer extension.
After being added to your browser, it brings plenty of web developing tools such as:
CSS
Cookies
Images
Forms, etc.
All these are displayed with the toolbar button above. This extension is available for 3 browsers:
Google Chrome
Opera
Firefox
Wappalyzer
If you want to know what stands behind your competitor's website then it is high time you installed the Wappalyzer extension.
This extension may enable you to reveal:
What CMS the mentioned website uses
Its framework
JavaScript library
E-commerce platform
Analytics
CDN, CRM
Payment
Programming languages
Processors
Marketing tools, etc.
ColorZilla
The next extension for your website is Colorzilla that is a well-managed and simple color picker. It will mostly help the web designers to select the needed color from any part of the browser. Here you may get familiar with the extensions best features:
Palette Viewer with 7 installed palettes
Eyedropper
Ultimate CSS Gradient Generator
Keyboard shortcuts
Advanced Color Picker, etc.
Summary
Summing up, in this article you have found some of the recommended extensions that might help you in your everyday use. These extensions may be highly useful not only for the developers and other professionals but also for users who want to have an easy experience on the website. Having a good and ranking website means that you provide good content. So, some of the mentioned plugins provide important tools to improve content.